THE NEWEST NEWS...
Put Some Fear in Your New Year!
$2.99 at Amazon.com
THE GODS OF MOAB
Start reading The Gods of Moab on your Kindle in under a minute at Amazon.com.

A pleasant New Year's Eve outing becomes an experience in otherworldly horror when two close-knit couples discover a shocking secret in the darkest corners of the Appalachian mountains. At an opulent mountain inn, Warren Burr, his fiancee, Anne, and their friends, Roger and Kristin Leverman, encounter a religious zealot named John Hanger, who makes it his business to bear witness to them of his peculiar...and disturbing...faith. His efforts rebuffed, Hanger insidiously assumes control of the couples' technological devices, leading them to stumble into unexpected, surreal landscapes...landscapes inhabited by nightmarish beings that defy explanation and rationality. To return to the world they thought they knew, Warren and his friends must not only escape the deadly entities that pursue them but somehow stop John Hanger's nightmare-plague from spreading to the outside world.

Check out The Gods of Moab here.
---

Now available!
DARK DISCOVERIES #24
As a longtime Dark Shadows fan and author of the HarperCollins novel, Dark Shadows: Dreams of the Dark, as well as several Dark Shadows audio dramas produced by Big Finish, Mark provides a lengthy, comprehensive article on the original ABC-TV series. The issue also contains an interview with Dark Shadows actress Kathryn Leigh Scott (Maggie Evans, Josette Dupres, and others). Now available! Visit the Dark Discoveries website for ordering information.
---
New interview at
GINGER NUTS OF HORROR
"A lengthy, thoughtful, and well-researched interview by Jim McLeod for Ginger Nuts of Horror. It surely makes me smile when someone shows genuine respect for me and even some fondness for my work, as Jim did with his interview. The whole business was a lot to go through — the final word count is over 6,000 words — but it was worth every minute of effort. If you've ever wanted to ask me anything about my chosen side vocation, Deathrealm, Dark Shadows, Godzilla, et. al., here's your chance; you'll almost certainly find your questions answered here.
Since Jim is in the UK, the MS Word file he provided me defaulted to UK English, so color came out colour and marvelous came out marvellous. I rather enjoy this because it makes me sound ever so much smarter."
Check out the interview at Ginger Nuts of Horror.
---
THE GAKI & OTHER HUNGRY SPIRITS
In Paperback and e-Book From Dark Regions

Strange shapes hiding in the shadows cast by the moonlight. Eerie noises drifting out of the forest and rising into the night. The sound of inhuman footsteps approaching from somewhere in the darkness. A pair of gleaming eyes peering in through your window at midnight....
This is the nightmarish, haunted world you will enter in this new collection of 17 tales—including six never before published—by Stephen Mark Rainey, longtime editor of Deathrealm magazine and author of such acclaimed works as Balak, The Lebo Coven, Blue Devil Island, The Last Trumpet, and Other Gods. Enter willingly…and prepare yourself for a chilling journey through some of the most frightening literary landscapes you have ever experienced.
Read Mark's short story, The Gaki, online here
or download it as a PDF or MOBI file for your Kindle.

Read more about The Gaki & Other Hungry Spirits here.
---
NOW AVAILABLE from Crossroad Press!
THE MONARCHS
Lost in the Dismal Swamp....
After her husband murders their daughter and then commits suicide, Courtney Edmiston, devastated and homeless, accepts an invitation to move in with her old college friend, Jan Blackburn. Jan lives with her brother, David, and eccentric Aunt Martha in the town of Fearing, North Carolina, at the edge of the Dismal Swamp. The Blackburn family has suffered its own recent tragedies — and Courtney learns that Jan and David have more than their share of enemies in the town. Because of her association with them, Courtney soon finds Fearing a very dangerous place to live. Certain members of the Surber family, who once worked for the Blackburns, hold a deep grudge against Jan and David and, on several occasions, attempt brutal acts of violence against them. Courtney, determined to help her friend in her own time of crisis, sets out to broker a peace but instead becomes more and more mired in the bitter feud.

For reasons Courtney cannot comprehend, many of the townspeople fear old Martha Blackburn. However, she begins to understand why when Martha threatens the Surbers with swift retribution — by way of a ghostly entity known as the Monarch — and gruesome death does indeed visit the Surbers. And to her horror, Courtney, caught between the two feuding families, at last becomes the focus of Aunt Martha's fury.

In desperation, two of the Surber brothers abduct Courtney and Jan and threaten to kill them unless the Blackburns meet their demands. However, Martha unleashes the horrific Monarch against her family's rivals. And Courtney, whom Martha now considers an enemy, becomes as much a target for its inhuman wrath as the remaining members of the treacherous Surber family....
Check out The Monarchs here.
---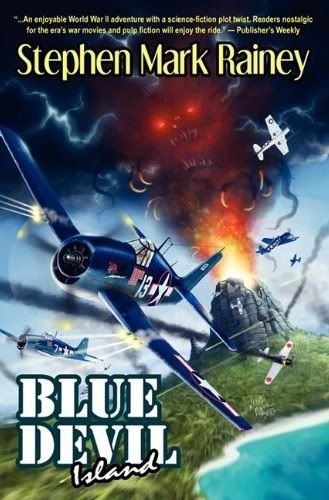 In paperback...
BLUE DEVIL ISLAND

The war that never ends has begun....
AUTUMN, 1943: The beginning of the American offensive against the Japanese in the South Pacific. Just west of the Solomon Islands lies a remote, desert island called Conquest, where the U.S. Navy stations a new fighting squadron, led by Lieutenant Commander Drew McLachlan, an ace pilot and veteran of the Battle of Coral Sea.

With his group of air warriors, who call themselves the Blue Devils, McLachlan soars into frequent combat with the Japanese, inflicting serious casualties upon the enemy. However, on the squadron's island home, signs appear that it may not be entirely alone, for in nearby volcanic caves, McLachlan finds evidence of habitation by unknown natives—natives that resemble no known living race, and that may yet exist in the mysterious subterranean catacombs. As the tension on the island mounts, McLachlan is forced to fight on two fronts: against their known enemy, the Japanese, and an unknown, predatory force that leaves mutilated victims as the only evidence of its presence.

As the Solomons campaign enters into its final skirmishes, the Japanese at last turn their attention to Conquest Island. In the final conflict, the Blue Devils find themselves the target of an overwhelming assault by the desperate Imperial Japanese forces—and McLachlan must face the reality that the key to his men's survival lies deep in the dark and deadly caves of Conquest Island itself.
Check out Blue Devil Island here.
---
In e-book and audio book formats from
Crossroad Press.
THE NIGHTMARE FRONTIER

"Remember what it was like to read a horror novel that actually made you sweat with dread and your hand shake ever-so-slightly as you turned the page? Remember what it was like to feel your heart thud against your chest as the plight of the characters became your own? Remember what it was like to have a story cast a spell over you rather than ram everything down your throat? If so, you've reason to rejoice; if not, then you need to discover what that's like. In either case, Mark Rainey's The Nightmare Frontier delivers the goods. This is the Good, Real Stuff. From its powerful opening in the jungles of Vietnam to its nerve-wracking finale, this novel never releases its grip on the reader's nerves, brains, and heart."

—Gary Braunbeck, author of In Silent Graves, Things Left Behind, and more
Free audio sample

More information about The Nightmare Frontier here.
---
THE LEBO COVEN
Now an e-book from Crossroad Press.

After a ten-year absence, Barry Riggs returns to his hometown of Aiken Mill, Virginia, in search of his brother, Matt, who has mysteriously disappeared. Not only is the younger Riggs missing, but his house has been ransacked—and branded with the strange word "LEBO," painted in blood on the bedroom wall. Faced with a local sheriff whose efforts to solve the crime are less than devoted, Barry sets out on his own to discover the truth. He meets a number of locals he had known in his youth, including a young woman named Jennifer Brand, whom he had once treated with contempt because she suffered from a repulsive, crippling affliction. After some awkward moments, the two become friends, and together they begin to unravel the mystery of Matt's disappearance. Certain locals suggest that the name "LEBO" holds certain, ominous significance, but no one will so much as whisper its meaning. Barry eventually encounters a mysterious character who goes by the name of Ren—a reputed Satan worshipper. As Barry and Jennifer unravel the clues, they learn that all is far from what it appears—and that dark, inhuman forces are at work.

Check out The Lebo Coven here.
---
DARK SHADOWS: BLOOD DANCE
From Big Finish!

The year is 1929. Seeking a life free of the nightmares at Collinwood, Quentin Collins finds himself in Chicago, captivated by the city's energy and the prospect of a new love. However, drawn into the twilight world of speakeasies and organized crime, he discovers even darker shadows that threaten to overwhelm both him and Chandres Tessier—the enigmatic woman to whom he feels drawn yet can't be sure he fully trusts….


Blood Dance is a new audio production I've written based on the classic Dark Shadows TV serial, featuring the talents of original series actors David Selby (Quentin Collins) and Lisa Richards (Chandres Tessier). Click the cover image for more information, or click here to read more about this and other Dark Shadows audio dramas.
---
DARK SHADOWS:
CURSE OF THE PHARAOH
From Big Finish!

Dr. Gretchen Warwick, famed Egyptologist and friend of Professor T. Elliot Stokes, comes to Collinwood, searching for the answers to life in the hereafter. At first, Carolyn cannot comprehend why an expert in ancient, mystical lore would desire her help, but to her horror, she discovers that she is indeed the key to a dark, dangerous world on the other side of death...


Curse of the Pharaoh is an audio production I've written based on the classic Dark Shadows TV serial, featuring
the talents of original series actors Nancy Barrett (Carolyn Stoddard) and Marie Wallace (Dr. Gretchen Warwick).
Click the cover image for more information, or visit www.bigfinish.com to order this and other Dark Shadows audio dramas.
---
DARK SHADOWS:
THE PATH OF FATE
From Big Finish!

The Path of Fate is an audio production I've written based on the classic Dark Shadows TV serial, featuring the talents of original series actors David Selby (Quentin Collins) and Lara Parker (Angelique). The hour-long drama is now available on CD or as an MP3 download from Big Finish Productions. Click the cover image for more information, or visit www.bigfinish.com to order this and other Dark Shadows audio dramas.


"Over there, it's a cruel, dark place. The master tells me that when Quentin Collins finds my heart, I can come back. Now I am back."

—Isaiah Mason